TOM MEIN & THE NEXT BAND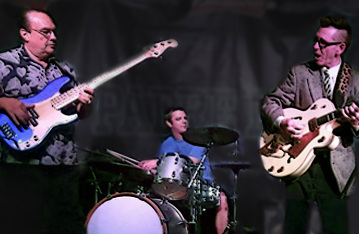 Tom Mein and the Next Band are a trio that is at home playing everything from classic jazz to bebop to jump blues to smooth grooves, all with a flair that is entertaining and fun. They hold down a weekly gig hosting a local jam session and there perform with top players on a regular basis. Tom, Rich and Charge have all played in every musical situation imaginable in various venues around the Phoenix area, as a trio or as a backup band for different singers (including Marah of Marah and the Marvels). They can add a sax or keybord player as well. Their songlist is vast and they are willing to add songs to meet the needs of the client.
This is a burning instrumental group that plays with passion and intensity, and puts on a fun show!
Tom Mein and the Next Band would be a great choice for a corporate or private party, an upscale club or restaurant, or, with a singer, a super choice for a wedding, resort/casino, or concert stage.
---