P.U.L.S.E.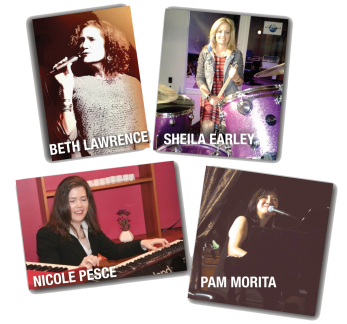 P.U.L.S.E. is: Positive - Unique - Lyrical - Soulful - Energetic

P.U.L.S.E. performs an eclectic mix of pop, jazz, and original music, highlighting the songs of female composers and lyricists.

P.U.L.S.E. is comprised of 4 musicians who are all amazing performers with impressive resumes and experience playing in every venue imaginable. Their inspired mission is to open doors and create a pathway for aspiring female artists to reach their full potential. Their primary goal is to share their collective experience in music through performance and education so that other women might find and live their own dreams.

P.U.L.S.E. features Pam Morita on keyboard &vocals, Beth Lawrence on vocals & percussion, Nicole Pesce on keyboard & Sheila Earley on drums & vocals.

The collective experience of P.U.L.S.E. ranges from International performances for celebrities and Heads of State; to composing for film and Broadway; to faculty and Musical Director positions for Colleges and major music events.
Check out their collective resume:
•Performances at The Herberger Theater, Kerr Cultural Center; Blue Note & Village Vanguard, NYC; Palace de Arts,Mexico City; Disneyworld; Las Vegas & Atlantic City; Independent film - 'Sugar'
•Awards from L.A. Jazz Scene Magazine; Billboard Song Festival; Parents Magazine
•Composition for Susan B. Komen Foundation; Broadway & Film; U.S. Olympic Committee
•Performances with Jerry Lewis, Ricky Martin, Marlena Shaw, Duke Ellington Legacy Band, Don Rickles, Bobby Vinton; The Beach Boys

P.U.L.S.E. is an amazing collection of talent that would be a great fit for any venue from corporate and private events to resorts to upscale clubs to concerts and festivals. They are also available for seminars and master classes.

---