Pam Morita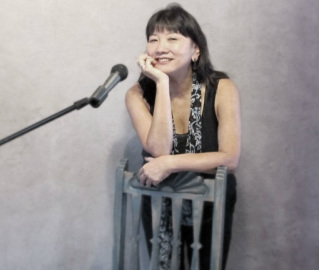 Pam Morita got hit with the jazz bug as a graduate classical piano student when she heard Joe Williams sing with the Count Basie Band at the University of Illinois . The band swung so hard that it influenced Pam to pursue a career in jazz piano and voice. At that moment she knew she had to play jazz! A professional pianist/singer in Chicago since 1980, Pam played at the Drake Hotel, Park Hyatt Hotel, the Fairmont, the Palmer House and at well known jazz clubs Andy's and the Green Mill. In 1985 she traveled to Sweden where she performed in clubs as well as onboard the Silja Line Cruise Ship. In 1994, she moved to Norway where she met Swedish jazz artists Ronnie Gardiner and Johan Setterlind and recorded her first CD, "Strings that…". She met singer Doris Spears and recorded another CD, "The Duchess",and toured throughout Scandinavia.

In 2000, Pam moved to the Valley. Since, she has played with the C.C. Jones Orchestra, Dennis Rowlands, Sherry Roberson, Felix Sainz, Dave Grale, Dennis Sexton, Paul-Eirik Melhus, Richard Palalay, Andy Gross, and Paul Anderson. Pam also fronts a jazz trio with Mary Petrich on sax and John Chapman on bass . In addition. Pam teaches Jazz Piano and Jazz Chamber Ensemble at Paradise Valley Community College and was an Adjunct Professor at Mesa Community College teaching Class Piano for Beginners.

Pam was a Nordstrom pianist for 5 years (as a soloist and with trios), and has played at the Top of the Rock Restaurant, Glendale Gaslight Inn, the Estate House, Cartwright's, Chandler Jazz Festival, 98 South, the Phoenix Music Festival, the Borgata, the Phoenician, the Biltmore, West Valley Art Museum, Scottsdale Artwalk, and the Kerr Cultural Center. In 2004, she started a jazz jam session for kids where professionals and youngsters could play together. "Pam's Jam" started at Barwinkles and ended at the Glendale Library, a span of 2 years. And presently, Pam is music director at Creative Living Fellowship.

Pam Morita is a wonderfully talented singer and pianist who has played all over the world and in every type of venue. Her talents and professionalism would make any event special! Pam would be a great choice for any musical situation, including weddings, corporate or private events, civic functions, upscale nighclubs or lounges, or concert stages.



---