M-Squared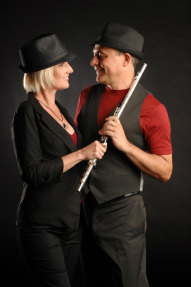 M-Squared is the duo of Carol and Mark Mellis. Carol and Mark met while they were music students at Arizona State University. They both played piccolo in the Sun Devil Marching Band so it didn't take long for them to become good friends and years later be married.

M-Squared performs jazz and pop music at restaurants, concerts, private parties and outdoor venues. Performing artfully on flute and voice (Carol) and piano (Mark), they create a beautiful, engaging musical experience for their audiences. In addition, their exceptional talent and versatility enables them to perform elegant classical music for flute and saxophone or two flutes.

This is a wonderful, classy duo that would be great for any intimate affair, from wedding ceremonies and cocktail hours to private parties, corporate events, upscale nightclubs and lounges, concerts and festivals.


---