HOUSE OF STAIRS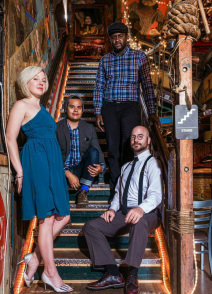 House of Stairs is a jazz-based collective that draw from funk, soul and pop influences to create a distinct progressive soundscape. Inspired by the visual innovations of M.C. Escher, House of Stairs approaches composition and performance in a parallel sense, exploring multi-faceted interactions between harmony, meter and lyrics that are both compelling and imaginative.
House of Stairs is a modern group with a innovative sound that pushes boundaries. These are young, forward-thinking talented players at the top of their game. Their musicianship and passion make fro an entertaining and exciting show.

House of Stairs would be the perfect choice for concerts or festivals, for upscale restaurants and clubs, and for private parties or civic functions.


---