Crystal Marie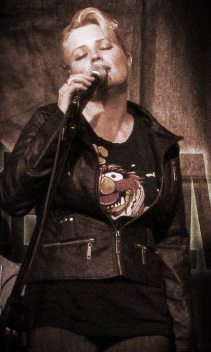 Crystal Marie is a singer/guitarist with a singular sound. Her voice resonates in a way few others' do. She can go from gut-wrenching blues to angelic ballads without skipping a beat. Her guitar playing is the perfect complement to her voice - evocatively folky at times, wonderfully bluesy at others. Crystal Marie performs from the heart, and it shows. Her repertoire includes everything from classic jazz ballads to blues standards to classic rockers to beautiful worship songs, all delivered with her own unique style, taste and talent.

Crystal's stage presence can be mesmerizing. Having her at your event or venue will leave an indelible impression on your customers and make for a beautiful expeience.

Crystal Marie can play a folk event or a jazz club, a blues bar or a high-class lounge gathering. Her skill with ballads and worship material makes her a natural for wedding ceremonies and cocktail hours. Crystal would also be a great fit for a private party, corporate event, upscale nightclub or restaurant, or a festival.


---