COMMUNITY SERVICE BAND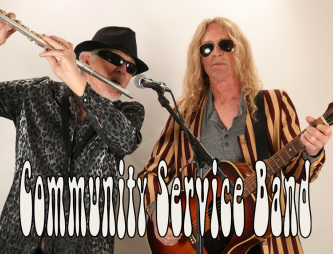 The Community Service Band is an acoustic duo performing classic rock songs from the 60's and 70's. Their music takes you back to one of the greatest eras of music by the Beatles, Bruce Springsteen, Moody Blues, Jethro Tull, Eagles, David Bowie, Rolling Stones, Emerson Lake and Palmer, Bob Segar and more. Duo members are Craig Frost on guitar, harmonica and vocals along with Gary "Papa G" Young on saxophone, flute, harmonica, guitar and vocals.

Community Service Band is a great affordable alternative for clients who are looking for a classic rock sound for their event or venue. Great for clubs and private parties.

---