'56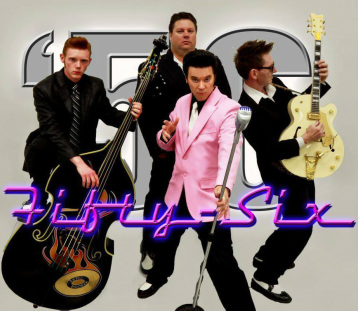 '56 plays American music with style. From blues-tinged, hip-shakin' rockers like "Shake, Rattle & Roll" to starlight ballads like "Love Me", Bret's powerful vocals make the girls swoon and the guys get up and dance. The ethereal twang of Tom's guitar on tunes like "Sleepwalk" is reminiscent of Brian Setzer/Duane Eddy. Austins' wing-tipped acrobatics on the upright bass have to be seen to be believed -and all with Jeff laying down the backbeat on the drums! This is a group that can rock a concert hall or fill up a dance floor with equal aplomb!

'56 has performed on stages of all sizes, from clubs to amphitheaters, in front of small groups and audiences numbering in the thousands. They regularly tour throughout the Southwest US, have released a successful CD, STEPPIN, which has received airplay in 40 countries all over the world including England, Spain, Italy, Australia, and Japan.

'56 is a great choice for any event, corporate or private, for concerts or festivals, or to rock out a resort/casino. 56 has plenty of travel experience and is willing to play anywhere, any time!
---